Goldberg Variations Review
Amir Mandel, Ha'aretz, 1.10.20
"In impressive and refreshing contrast [to Lang Lang's recording of the Goldberg Variations], one can listen to Imri Talgam's performance on the Bandcamp platform. Talgam, who's mostly known for performing modern and contemporary works, recorded the Goldberg variations live in concert. Despite a few technical mishaps, he achieves an excellent balance between the harmonic, contrapuntal, rhythmic, and melodic dimensions. He combines all these in a deeply exciting musical and emotional experience."
Excellent Reviews for Solstice Recording
Diapason Magazine  5/5
Gérard Condé:
16 – 03 – 2016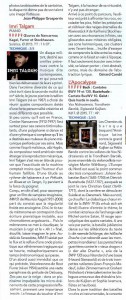 "A militant CD, targeted at those whose ears are yet unaccustomed to so-called contemporary music, which may very well set them free from their prejudices.
From the extreme variety of post 1950's repertoire, the young Israeli pianist Imri Talgam (born in 1987) chose to gather four composers that present very strong creative personalities and that are widely different from one another.
Little known in France, Colon Nancarrow (1912-1997) is mostly famous for his playful canons. They are polyphonically so dense and rhythmically so complex that they were intended for player piano. But since the mischievous spirit, alla Haydn, of the north-American composer isn't exhausted in mechanical reproduction, Imri Talgam decided to prove that the exactitude of the machine didn't matter as much as the humor of a fallible human. From a Study in rhythm of habanera to a Prelude, a Blues and a Tango, he manages to do so by dint of hard work.
Originally conceived as accompaniment to a vampire film, MM51 by Mauricio Kagel (1931-2008), explores the anxiety associated with cold regularity. Hence the tic-tac of the metronome, in counterpoint with an unstable pianistic writing, filled with frightening chromaticism…. Then the metronome begins to limp, the musician begins to roar and the final "Ah!", muffled, leaves you with chills.
As easily accessible as the previous piece, Voicelessness by Beat Furrer (born in 1954) seems like a wide paraphrase on Debussy's prelude Des Pas Sur la Neige: in an impalpable pianissimo, micro-events of this progression/fading take an incredible importance. The finesse of Imri Talgam's touch, a match to his virtuosity, does it justice.
Arrived at this point in the journey, the listener is ready to face the rocks, climb the peaks, be on the verge of the abyss, and be dazzled by the eternal snows of Klavierstuück X by Karlheinz Stockhausen with its infinite resonances, its glissandi and harmonics sounds, its forearm clusters… It is senseless to attempt to understand with your head between your hands, like we used to in the old days, in vain. One must simply listen with intensity, let oneself be carried away; it is abstract, indeed, but it is within the realm of lyrical abstraction."
[English Translation by Audrey Abela]
Classica Magazine Review
Classica Magazine: 4 / 4
Romaric Gergorin
15 – 12 – 2015

"The contemporary program of this CD reveals the intrepid personality of its performer, the Israeli pianist Imri Talgam, who decides to conquer masterpieces of extreme virtuosity in a fiery yet highly controlled manner. This young musician begins his journey by interpreting no less than piano transcriptions of Studies for player piano by the seldom-played Conlon Nancarrow, American maverick, who became a naturalized Mexican after fighting against Franco during the Spanish war in 1937. Nancarrow was influenced by Stravinsky, Henry Cowell and John Cage when he composed polyrhythmic pieces for pianola; these pieces are so difficult that they are supposed to be unplayable by a pianist. Talgam, however, meets the challenge and presents very joyful interpretations of seven pieces by this composer who came to light thanks to Ligeti.
The humor continues with a work for piano and metronome by the mischievous Maurizio Kagel, surrealistic parody of horror movie music and a true organic success. This is followed by a languid work by Beat Furrer, which slightly suffers from the juxtaposition with figures as imposing as Nancarrow, Kagel and Stockhausen.
Stockhausen's Klavierstück X concludes this journey through the peaks of experimentation with wild alternating clusters, surges of explorative vivacity, abrupt at times but always precise, with isolated motives dissolving into silence. From this opposition is born a new form that finally brings together the two antagonistic blocks through a synthesis of the elements, all in resonance, dimming the contrasts with a newly found plenitude."
[English Translation by Audrey Abela]